Description
Tech Specs
Type:

Pedalboard Isolated Power Supply

Inputs:

120V AC Standard IEC cable

Outputs:

7 x 9V/12V/15V/18V DC 330mA-660mA (voltage dependent), 1 x 24V DC pass thru

USB:

1 x Type A (5V charging)

Connectivity:

RCA Female Jacks (Cioks power cables recommended)

Features:

Switched-mode power supply

Height:

1″

Width:

6.3″

Depth:

3.5″

Weight:

1.1 lbs.

Manufacturer Part Number:

CIO-DC7
Packs a feature-rich 7-outlet power supply into a 1-inch profile
Supplying your pedalboard with isolated power doesn't necessitate a bulky power supply. Within the CIOKS DC7's tiny 1-inch profile lurks a 2-stage switch-mode power supply with low-noise multi-stage filtering. Its seven isolated DC outlets boast six watts each, or 660mA at 9V if you want us to be specific. Each outlet is switchable between 9V, 12V, 15V, or 18V, enabling you to feed juice to just about any stompbox out there. You also get a 5V USB outlet for charging your smartphone or tablet, and a 24V auxiliary output for expansion via CIOKS 4 or CIOKS 8 units. At Sweetwater, we've found the CIOKS DC7 to be among the most feature-rich pedalboard power supplies out there, especially for its size.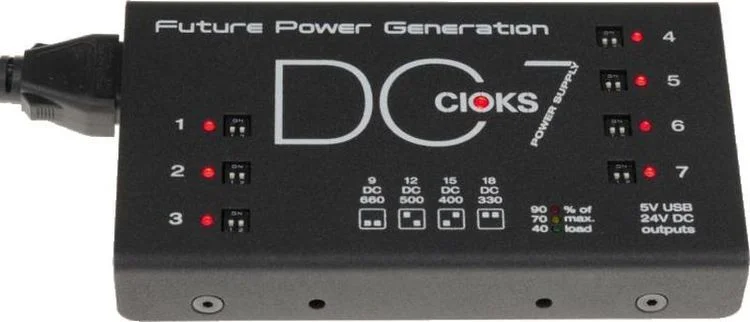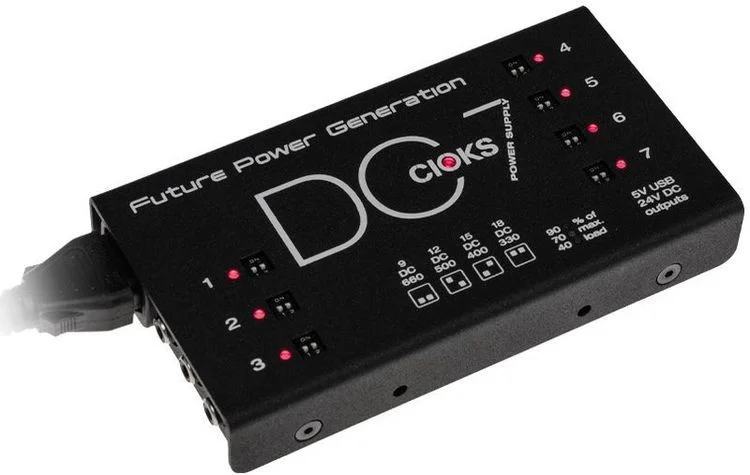 Advanced LED monitoring keeps you on top of everything
The CIOKS CD7 is jam-packed with advanced LED monitoring. Individual status LEDs on each outlet remain lit under normal conditions, dim when you reach the upper limits of the outlet's voltage, and shut off upon overload. A global status LED inside the CIOKS logo's "O" warns you if you exceed the unit's 48W power limit. A 3-LED true power meter gives you at-a-glance confirmation of your total power load — no LEDs means you're below 40%, a green LED means you're above 40%, simultaneous yellow and green LEDs mean you've exceeded 70%, and when you've hit 90% all three LEDs light up.
Included Flex cables:
7 x Standard Flex type 1 — black with 5.5mm/2.1mm center-negative DC plug
1 x Standard Flex type 2 — red with 5.5mm/2.1mm center-positive DC plug
1 x Standard Flex type 4 — green with 5.5mm/2.5mm center-positive DC plug
1 x Standard Flex type 5 — black with tip positive 3.5mm Jack plug
1 x Split Flex type 1 — powers 2 pedals off a single outlet
1 x 3-way daisy-chain Flex type 1 — powers 3 pedals off a single outlet